I picked the following parts of the message to use:
All of us are imperfect-only through the gift of repentance made possible by the sacrifice of Jesus Christ can we be cleansed from sin and improve our lives.
'Essential to the plan [of salvation] is our Savior, Jesus Christ. Without His atoning sacrifice, all would be lost. It is not enough, however, merely to believe in Him and His mission. We need to work and learn, search and pray, repent and improve. We need to know God's laws and live them. We need to receive His saving ordinances. Only by so doing will we obtain true, eternal happiness."
-President Thomas S. Monson
"Although it is imperative that we choose wisely, there are times when we will make foolish choices. The gift of repentance, provided by our Savior, enables us to correct our course settings, that we might return to the path which will lead us to that celestial glory we seek."
"Our responsibility is to rise from mediocrity to competence, from failure to achievement," President Thomas S. Monson has taught. "Our task is to become our best selves. One of God's greatest gifts to us is the joy of trying again, for no failure ever need be final."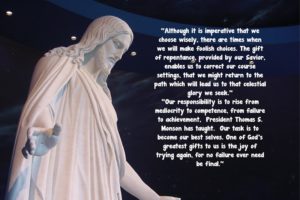 You can read the full message at this link
https://www.lds.org/liahona/2018/01/the-gift-of-repentance?lang=eng