Den Doodle
Den doodles make an excellent Den project and serve a double purpose. They are interesting to make and can be used as a continual incentive for Cub Scouts to earn their advancement.
A den doodle is an emblem – a figure chosen by the den and placed on a stand or hung on a wall to show each boy's advancement status. Using leather thongs or string or shoelaces, suspend circles of cardboard, wood, tin, or other devices from the totem as achievements are earned. A doodle stick dates back to the Indian coup stick and totem pole.
Make your own doodles –
Den doodles are simple to make. When making a den doodle, first cut out and prepare the doodle, drill a hole in the top and bottom of each item, and thread the thong or string through holes. Attach to stand. Cub Scouts will like to make den doodles and watch their string of conquests grow. Boys falling behind take notice of their bare strings and work harder for their advancement. Den doodles should be on display at each pack meeting as a part of the den table exhibits.
Some ideas –
Have each boy make a name plaque from 1/4 inch plywood. On this name plaque, he hangs his advancement doodle, made by gluing one of the Cub Scout insignia stickers to heavy cardboard. Gold and silver arrow points can be made from colored gummer paper attached to cardboard. Attach individual doodles to the doodle stick or stand to form the den doodle.
A den bulletin doodle board can be made from a 2 foot section of pegboard, decorated with colorful paint. The board can be used to inform Cub Scouts and Den Leaders of their duties and coming activities. Notes, clippings, or reminders of the various jobs and activities are clipped to the board each week. Name plates for each Cub Scout in the den are attached to the bottom of the doodle board. Colorful "pop-it" beads can be snapped into the board and to one another to show rank advancement for each boy.
Christmas doodles can be made by attaching a large paper cup to cone to a plywood base. Cover the cup with green paper and attach colored circles and stars for Christmas tree effect. Fasten individual name tags to edges of doodle base and hang leather thongs or strings with attached Pin-pong balls, bottle caps, or colored beads to form doodles. Use a broomstick as a doodle stick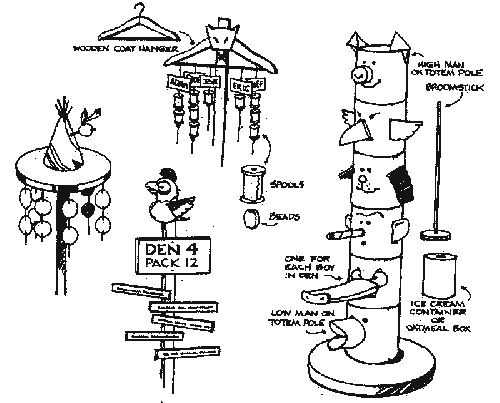 Here is what I personal did
---
I took a board, just like a 4″ x 14″ (depending on how many boys you have) I drilled holes all along the bottom, on the board I painted "Wolf Den Pack 398" ( or something a long those line)
I had bought plastic lacing, (get Joann's or Michaels coupons and save loads of money or just use string) and some beads, I bought some small feathers, a wooden tag, you could add anything else you wanted. The kids wrote their names on the tags, and then added them to a long piece of plastic lace, I had bought cheap plastic beads. I don't remember exactly how I had them divided but something like this:
Blue- they would get 1 bead for each of the following at wear uniform, bring book to den meeting

Yellow – Completing an Achievement/Elective

White – Faith in God Award / religious award

Red – earned a badge (Bobcat, Wolf etc)

green- this you can use for misc stuff!