We had a Personal Progress night on Virtue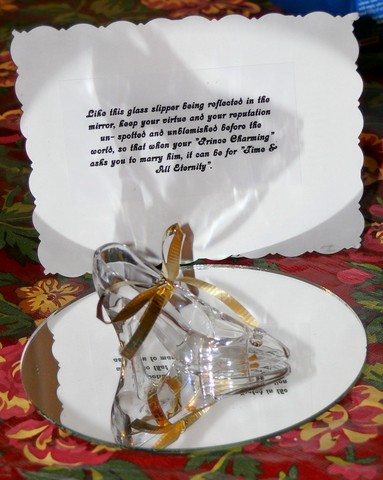 Becky writes, "We had a Personal Progress night on Virtue. Several parents in the ward had asked us to talk to the girls about pornography and "sexting". I was kind of nervous about what kind of reception it would get, but I asked an LDS police officer that I am friends with to come and talk to the girls about the legal ramifications, and I had asked the bishop to come and talk about the moral aspects. It turned out really neat and the spirit was really strong.
For a handout I bought some clear plastic slippers that looked like Cinderella's glass slipper and glued them on a round mirror and tied a gold ribbon around the instep of the shoe. We found the glass slippers at the "Dollar Tree" They had packages of 6 for a $1.00, if you don't have a Dollar Tree near you , you could check out a bridal or party shop. I typed up a card to go with it with some quotes from a talk by Sister Dalton and on the back I put the following:
"Like this glass slipper being reflected in the mirror, keep your virtue and your reputation unspotted and unblemished before the world, so that when your "Prince Charming" asks you to marry him, it can be for "Time and All Eternity."
The card wasn't attached, I was going to glue it on the back, but where I ended up using both sides, I didn't. The girls loved them and couldn't wait to take them home.