Joseph Smith Page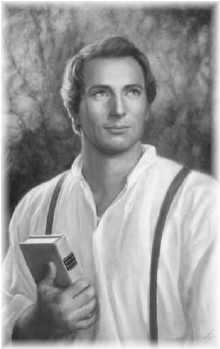 Joseph Smith
"The Standard of Truth has been erected; no unhallowed hand can stop the work from progressing; . . . the truth of God will go forth boldly, nobly, and independent, till it has penetrated every continent, visited every clime, swept every country, and sounded in every ear, till the purposes of God shall be accomplished, and the Great Jehovah shall say the work is done."
I am sure I will still add stuff, but the church has come out with a GREAT new site all about Joseph Smith, please visit it! www.josephsmith.net
Children of Joseph Smith, Sr., and Lucy Mack Smith
Name

Birth Place

Place of Birth

Death Date

1.

Child

about 1797

Tunbridge, Vermont

about 1797

11 February 1798

Tunbridge, Vermont

19 November 1823

9 February 1800

Tunbridge, Vermont

27 June 1844

16 May 1803

Tunbridge, Vermont

1876

5.

Joseph, Jr

23 December 1805

Sharon, Vermont

27 June 1844

13 March 1808

Tunbridge, Vermont

30 July 1844

13 March 1810

Royalton, Vermont

24 March 1810

13 March 1811

Royalton, Vermont

13 November 1893

28 July 1812

Lebanon, New Hampshire

1 February 1900

25 March 1816

Norwich, Vermont

7 August 1841

18 July 1821

Palmyra, New York

9 December 1882
ALVIN (1798 – 1823) Alvin was the first-born, and from all accounts, he was an excellent son; a good and worthy young man. We are not sure of the exact date of Alvin's birth. Mrs. Smith gives the date, in the first edition of her book, published in 1853, as February 11, 1799. The Documentary History of the Church gives the date as February 11, 1798.
There has also been some discrepancy in the date of Alvin's death. For over one hundred years this date was given as November 19, 1824. This, however, was found by Willard Bean to be an error. Some years ago, while residing on the Smith farm, he went through some old Palmyra newspapers, and there found in the Wayne Sentinel, under date of September 25, 1824, the following somewhat startling notice, signed by Joseph Smith, Sr.:
NOTICE TO THE PUBLIC
"Whereas reports have been industriously put in circulation that my son, Alvin, had been removed from the place of interment and dissected, which reports, every person possessed of human sensibility must know, are peculiarly calculated to harrow up the mind of a parent and deeply wound the feelings of relations; therefore, for the purpose of ascertaining the truth of such reports, I, with some of my neighbors, this morning repaired to the grave, and removing the earth, found the body, which had not been disturbed.
"This method is taken for the purpose of satisfying the minds of those who may have heard these reports, and of informing those who have put them in circulation, that it is earnestly requested that they would desist there from; and that it is believed by some, that they have been circulated more by a desire to injure the reputation of certain persons, than by a philanthropy for the peace and welfare of myself and friends. (Signed) Joseph Smith, Sr."
This notice effectually solved the date of Alvin's death—that it was not in the year 1824, but rather in the preceding year of 1823, the same year in which Joseph, Jr. was visited by the Angel Moroni.
There is something pathetic in the publication of this "notice" by Father Smith. It is evident that various unfounded and harmful rumors were being circulated in the neighborhood regarding the Smith family, probably directed against Joseph, Jr. who had related the story of his visions. Then the rumors grew, and some uninspired yokel put out the story that Father Smith had allowed certain physicians to remove Alvin's body from its grave to be dissected. Father Smith's prompt denial and publication of the notice effectually put an end to these rumors. It also established the date of Alvin's death.
The Prophet Joseph makes frequent reference to his brother Alvin, in his own personal history. Under date of January 21, 1836, at Kirtland, Ohio, we find the following account of a vision in the Kirtland Temple:
"The heavens were opened upon us, and I beheld the Celestial Kingdom of God, and the glory thereof. . . . I saw Fathers Adam and Abraham, and my father and mother, and my brother Alvin, who had long since slept, and marveled how it was that he had obtained an inheritance in that Kingdom, seeing that he had departed this life before the Lord had set his hand to gather Israel the second time and had not been baptized for the remission of sins." (History of the Church, Vol. 2, pp. 380-381.)
At the funeral of a young man named Ephraim Marks, held in Nauvoo on the 9th of April, 1842, the Prophet made the following remarks:
"It is a very solemn and awful time; I never felt more solemn. It calls to mind the deaths of my oldest brother Alvin, who died in New York, and my youngest brother Don Carlos Smith, who died in Nauvoo. It has been hard for me to live on earth and see these young men, upon whom we have leaned for support and comfort, taken from us in the midst of their youth." And again, on August 22, 1842, he expresses his admiration and love for his brother Alvin, in his History:
"Alvin, my oldest brother; I remember well the pangs of sorrow that swelled my youthful bosom and almost burst my tender heart when he died. He was the oldest and noblest of my father's family. He was one of the noblest of the sons of men."
Alvin's life, as set forth in this volume, and the added compliments of his gifted brother, the Prophet, are all calculated to convince us that he was indeed "one of the noblest of the sons of men."
HYRUM (1800 – 1844)

Hyrum Smith, the second son of Joseph and Lucy Mack Smith, was born February 9, 1800, at Tunbridge, Vermont. He removed with his father's family to western New York when sixteen years of age. On November 2, 1826, he was married to Jerusha Barden, at Manchester, N. Y., by whom he had six children, Lovina, Mary, John, Hyrum, Jerusha and Sarah. His wife died October 13, 1837, while he was absent at Far West, Mo. The same year he was married to Mary Fielding, by whom he had two children, Joseph F. and Martha. Like his brother Joseph, Hyrum spent his early years in agricultural labor, and nothing of particular note characterized that period of his life. He speedily became a believer in Joseph's mission, and by him was baptized in Seneca Lake, in June, 1829. He was one of the eight persons permitted to view the plates from which the Book of Mormon was translated, and his name is prefixed to it as a witness. November 7, 1837, at a conference assembled in Far West, Mo., he was appointed second counselor to Pres. Joseph Smith, in the place of Frederick G. Williams, who was rejected. January 19, 1841, he was called by revelation to take the office of Patriarch to the whole Church, to which he had been appointed by his deceased father, by blessing and also by birthright, and was likewise appointed a Prophet, Seer and Revelator. He was personally connected with many of the principal events of the Church, up to the time of his death, and in the various offices he filled, won the love and esteem of all Church members. In the revelation calling him to be the Patriarch, he is spoken of in the following words: "Blessed is my servant Hyrum Smith, for I the Lord love him, because of the integrity of his heart, and because he loveth that which is right before me, saith the Lord." (Doc. Cov., 124:15.) Hyrum was tenderly attached to his brother Joseph, whom he never left more than six months at one time, during their lives. He was arrested with Joseph at Far West, Mo., and imprisoned with him at Liberty, Missouri, and finally split his blood with him at Carthage, Ill., June 27, 1844. In this catastrophe he fell first, exclaiming, "I am a dead man," and Joseph responding, "O dear Brother Hyrum!" In the Times and Seasons In this catastrophe he fell first, exclaiming, "I am a dead man," and Joseph responding, "O dear Brother Hyrum!" In the Times and Seasons we find the following beautiful eulogy: "He lived so far beyond the ordinary walk of man, that even the tongue of the vilest slanderer could not touch his reputation. He lived godly, and he died godly, and his murderers will yet have to confess, that it would have been better for them to have had a millstone tied to them, and have been cast into the depths of the sea, and remain there while eternity goes and eternity comes, than to have robbed that noble man of heaven of his life." At his death he held various military and civil offices in the Nauvoo Legion and in the municipality.
---
SOPHRONIA (1803 -——) We know less about the life of Sophronia, the third child and eldest daughter of Joseph and Lucy Mack Smith, than of any of the children of the family. From Mrs. Smith we learn that Sophronia was born at Tunbridge, Vermont, on the 18th of May, 1803. She was thirteen years of age when the family moved to Palmyra. Mrs. Smith further tells us that Sophronia was married to a young man named Calvin Stoddard on December 2, 1827, at Palmyra. By this marriage she had two daughters. Mrs. Smith gives the names of these daughters as Eunice, born March 22, 1830 and Maria, born April 12, 1832.
Apparently Calvin Stoddard died between the years 1832 and 1838. We do not know the date of his death, but it was during the residence of the Smith family in Kirtland that Sophronia was married the second time, to a man named William McCleary. Sophronia and her husband moved to Missouri in 1838, and back to Illinois in 1839. They were residing in Hancock county at the time of the murder of Joseph and Hyrum. When the Saints moved west in the spring of 1846, under the leadership of President Brigham Young, Sophronia and her husband remained behind. From that time on we have only meagre knowledge of her activities. She was living in or near Colchester, Illinois, in 1860, and was a widow, when she was visited by her nephew, Joseph F. Smith. The date of Sophronia's death is not known.
---
SAMUEL HARRISON (1808 – 1844) The fourth son of Joseph Smith and Lucy Mack, was born in the town of Tunbridge, Orange County, Vermont, March 13, 1808. In his early life he assisted his father in farming. He possessed a religious turn of mind, and at an early age joined the Presbyterian Church, to which sect he belonged until he visited his brother Joseph in Pennsylvania in May 1829, when Joseph informed him that the Lord was about to commence his latter-day work. He also showed him that part of the Book of Mormon which he had translated, and labored to persuade him concerning the gospel of Jesus Christ, which was about to be revealed in its fullness.
Samuel was not, however, very easily persuaded of these things, but after much inquiry and explanation he retired and prayed that he might obtain from the Lord wisdom to enable him to judge for himself; the result was that he obtained revelation for himself sufficient to convince him of the truth of the testimony of his brother Joseph.
May 15, 1829, Joseph Smith and Oliver Cowdery were baptized, and as they were returning from the river to the house, they overheard Samuel engaged in secret prayer. Joseph said that he considered that a sufficient testimony of his being a fit subject for baptism; and as they had now received authority to baptize, they spoke to Samuel upon the subject, and he went straightway to the water with them, and was baptized by Oliver Cowdery, he being the third person baptized in the last dispensation.
Samuel was present at the organization of the Church. April 6, 1830, and was one of the six who at that time constituted the first members of the Church. He was ordained to the Priesthood on that day.
On the 30th of June following the organization of the Church, Samuel took some Books of Mormon and started on his mission, to which he had been set apart by his brother Joseph, and on traveling twenty-five miles, which was his first day's journey, he stopped at a number of places in order to sell his books, but was turned out of doors as soon as he declared his principles.
In December 1830, Samuel was sent to preach in Kirtland, Ohio, and the surrounding country. In the beginning of 1831, Joseph, the Prophet, moved to Kirtland to preside, accompanied by Hyrum and many of the Saints, and soon after his father's family, and the Saints who were located in Fayette, near Waterloo, also moved to Kirtland.
In June, 1831, Samuel was called by revelation to go to Missouri on a mission, in company with Reynolds Cahoon.
When they started for Missouri, about fifty brethren set out for the same place, and when they all arrived they met on the spot selected for the Temple, in Jackson County.
Brothers Smith and Cahoon spent several days in Jackson County, attended several conferences, and were with Joseph when he received several revelations. While in Missouri they were required to remain together on their mission until they reached home, which was in September following.
Soon after their arrival in Kirtland, they took a mission into the southern townships and counties of Ohio. Brother Cahoon returned after laboring about six weeks, but Samuel continued preaching through the winter, strengthening the churches and comforting the Saints.
In a revelation given in January, 1832, Orson Hyde and Samuel H. Smith were called to go on a mission to the Eastern country; accordingly they started in March, and traveled and preached the gospel through the states of Ohio, New York, Pennsylvania, Connecticut, Rhode Island, Massachusetts and Maine. They returned to Kirtland in December.
February 17, 1834, Samuel was ordained and set apart as one of the High Council in Kirtland, in which office he officiated until he went to Missouri in 1838.
On August 13, 1834, Samuel married Mary Bailey, who was born in Bedford, Hillsborough County, New Hampshire, December 20, 1808.
In 1838 he traveled in company with his brother Joseph from Kirtland to Missouri. He passed through the mobbings of that year, in Far West and Adam-ondi-Ahman, Missouri, and his family suffered from exposure as they were driven out of the state by the mob.
Samuel arrived in Quincy, and was there to assist his father and mother over the river on their arrival. He rented a house for them, into which he also assisted four other families of the Saints.
In September, 1840, Samuel received the following blessing under the hands of his father, Joseph Smith, Sr., upon his dying bed:
"Samuel, you have been a faithful and obedient son. By your faithfulness you have brought many into the Church. The Lord has seen your diligence, and you are blessed, in that he has never chastised you, but has called you home to rest; and there is a crown laid up for you which shall grow brighter and brighter unto the perfect day.
"When the Lord called you, he said, 'Samuel, I have seen thy sufferings, have heard thy cries, and beheld thy faithfulness; thy skirts are clean from the blood of this generation.' Because of these things, I seal upon your head all the blessings which I have heretofore pronounced upon you; and this my dying blessing I now seal upon you. Even so: Amen."
Samuel's wife died January 25, 1841. She was the mother of four children, namely: Susannah B., Mary B., Samuel Harrison B. and Lucy B.In April, 1841, he was sent on a mission to preach the gospel in Scott and adjoining counties, Illinois. May 3rd, he married Levira Clark, daughter of Gardner and Delecta Clark, born in Livonia, Livingston County, New York, July 30, 1815.
In the month of November he returned to Nauvoo, taking his family with him, where he remained during the winter, and also the summer of 1842, during which time he worked mostly for Joseph, and harvested in the country.
In the fall of 1842 Samuel removed to his brother William's tavern at Plymouth. In the summer of 1843 he was often at Nauvoo. Nauvoo. In the fall he chopped wood, and prepared his farm by making fences and clearing off the timber, preaching the gospel in the vicinity as he had the opportunity.
In the spring of 1844 he cultivated his farm, and in June, having heard of the imprisonment of his brothers in Carthage jail, he repaired thither on horseback to see them. While on the way he was pursued by the mobocrats; but in consequence of the fleetness of his horse, he was enabled to reach Carthage shortly after the tragedy. The following day he went to Nauvoo in company with the bodies of his martyred brothers.
About two weeks after the death of his brothers, Samuel suffered a severe illness and died on the 30th of July, 1844, aged 36 years.
The following extract is from his obituary notice, published in the Times and Seasons:
"The exit of this worthy man, so soon after the horrible butchery of his brothers, Joseph and Hyrum, in Carthage jail, is a matter of deep solemnity to the family, as well as a remediless loss to all. If ever there lived a good man upon the earth, Samuel H. Smith was that person. His labors in the Church from first to last, carrying glad tidings to the eastern cities, and finally his steadfastness as one of the witnesses to the Book of Mormon, and many saintly traits of virtue, knowledge, temperance, patience, godliness, brotherly kindness, and charity, shall be given of him hereafter, as a man of God."
His wife Levira bore to him three daughters, viz., Levira A. C., Louisa C. and Lucy J. C.
---
EPHRAIM (1810 – 1810) The sixth child, Ephraim, died when he was ten days old, while the family still resided in Vermont.
---
WILLIAM (1811 – 1894) William Smith was the fifth son of Joseph and Lucy Mack Smith; born in Royalton, Windsor county, Vermont, March 13, 1811. He was baptized at an early period, and was a Teacher in the Church in 1831. He took a mission to Erie county, Pennsylvania, in December, 1832, to preach the gospel and call the Elders to Kirtland to attend a school of the Prophets. He was ordained to the office of a High Priest, under the hands of Sidney Rigdon on the 21st day of June, 1833. During the winter of 1833 he worked on a farm and chopped cord wood near Kirtland. He was married to Caroline Grant, daughter of Joshua and Thalia Grant, February 14, 1833, by whom he had two daughters—Mary Jane and Caroline L. He went to Missouri in Zion's Camp in 1834, and returned to Kirtland the same fall. fall. He was appointed one of the Twelve Apostles at the organization of that quorum, at Kirtland, February 15, 1835, under the hands of Oliver Cowdery, David Whitmer and Martin Harris. He accompanied the Twelve on their first mission through the Eastern States and returned with them to Kirtland in the fall.
While Joseph Smith was presiding in a High Council, William rebelled against him in a very headstrong manner. At a debating school held in the house of Father Joseph Smith, December 16, 1835, the Prophet Joseph told the brethren he feared it would not result in good, whereupon William, in a rage, commanded Joseph to leave the house, attempted to put him out and inflicted upon him personal injury, the effects of which he occasionally felt until his death. After Hyrum and the Twelve had labored with William for several days, he made confession and was forgiven.
William removed to Far West with his family in the spring of 1838. After Joseph was taken prisoner and the mob began to drive out the Saints, William expressed himself in such a vindictive manner against Joseph that the Church suspended him from fellowship, May 4, 1839, at a general conference near Quincy. He went to Illinois and settled in Plymouth, Hancock county, keeping a tavern. William was restored to fellowship in the Church through the intercession of Joseph and Hyrum; but when the Twelve went to England, instead of accompanying them, according to the commandment of the Lord, he remained on his farm at Plymouth. He published a letter in the Times and Seasons, December 1, 1840, making an apology for neglecting to go on his mission on the ground of poverty, but it came with an ill grace as he was better situated to leave his family than any of the members of the quorum who went. In the spring of 1841 he visited the branches of the Church in Pennsylvania and New Jersey. He was elected a member of the House of Representatives of the Legislature of Illinois in the winter session of 1842-43. His acts as a member of the legislature were highly approved by the people; he displayed considerable energy in defending the Nauvoo charter and the rights of his constituents. He took a journey to the East on business in the spring of 1843, and spent his time among the churches. William returned to Nauvoo April 22, 1844, with about forty or fifty Saints from New Jersey. After staying a short time in Nauvoo, he had his last interview with his brother Joseph under the following circumstances: He asked Joseph to give him a city lot near the Temple. Joseph told him that he would do so with great pleasure if he would build a house and live upon it; but he would not give him a lot to sell. William replied he wanted it to build and live upon. The lot was well worth $1,000. In a few hours afterwards, an application was made by a certain Mr. Ivins to the city recorder to know if the lot was clear and belonged to Wm. Smith, for William had sold it to him for $500. Joseph, hearing of this, directed the clerk not to make a transfer, at which William was so offended that he threatened Joseph, who deemed it prudent to keep out of the way until William left on a steamboat for the East, accompanied by his family.
In a general conference of the Church held in Nauvoo Oct. 6, 1845, Wm. Smith was dropped as one of the Twelve Apostles and Patriarch of the Church, and on the following Sunday (Oct. 12th) he was excommunicated, as more of his inconsistent acts had come to light. Some time afterwards he associated himself with the apostate James J. Strang, who tried to organize a church of his own, but failed. Wm. Smith afterwards identified himself with the "Reorganized Church" and lived for a number of years in Elkader, Clayton county, Iowa. He died Nov. 13, 1894, at Osterdock, Clayton county, Iowa, as the last surviving brother of Joseph the Prophet.
---
CATHERINE (1812 – 1900) Catherine was the second daughter in the Smith family, born July 28, 1812. She was a child of fifteen when her brother, Joseph, received the plates of the Book of Mormon. On January 8, 1831, prior to the removal of the Smith family from New York to Ohio, Catherine was married to Wilkins J. Salisbury. Catherine and her husband followed the Saints in all their wanderings, to Ohio, to Missouri, and back to Illinois. At the time her brothers were murdered, in June, 1844, she was residing at Plymouth, Illinois, where her husband followed the occupation of a blacksmith. Catherine did not follow the Latter-day Saints to Utah. She remained with her mother and sisters in Illinois where she died at Fountain Green, on February 1, 1900, the last survivor of the Smith children. She was the mother of four sons and four daughters.
---
DON CARLOS (1816 – 1841) Don Carlos was the last of Mrs. Smith's seven sons. He was a noble young man with an unblemished character. Don Carlos was twenty-five years old at the time of his death.
---
Lucy (1821 – 1882) Lucy was the last of the Smith children. She was born on July 18, 1821, in the log cabin which was the first home of the Smith family on the Manchester farm in New York. When eighteen years of age she was married, at Nauvoo, to Arthur Millikin. Lucy and her husband did not follow the Saints to Utah after the death of her brothers. She remained in Illinois, where she died near Colchester, on Dec. 9, 1882. She was the mother of four sons and five daughters.
P

A R E N T S O F T H E P R O P H E T
Lucy Mack met Joseph Smith, Sr., while visiting her brother Stephen at Tunbridge, Vermont. Joseph was twenty-five, over six feet tall, and powerfully built, like his father, Asael. After their marriage on 24 January 1796, they settled on one of the family farms in Tunbridge. They spent six years there, during which their first three children were born. Joseph and Lucy rented out their Tunbridge farm, possibly because of stony soil, and moved to Randolph in 1802, where they opened a mercantile establishment.
In Randolph Lucy fell ill. A physician diagnosed her condition as tuberculosis, the illness her older sisters, Lovisa and Lovina, had died from. Hearing that doctors said she would die, Lucy pleaded with the Lord to spare her life so that she might bring comfort to her children and husband.
Lucy wrote, "I made a solemn covenant with God that if He would let me live I would endeavor to serve him according to the best of my abilities.
Shortly after this I heard a voice say to me, 'Seek, and ye shall find; knock, and it shall be opened unto you. Let your heart be comforted; ye believe in God, believe also in me.'
". . . As soon as I was able I made all diligence in endeavoring to find someone who was capable of instructing me more perfectly in the way of life and salvation. . . .
". . . I went from place to place for the purpose of getting information and finding, if it were possible, some congenial spirit who could enter into my feelings and thus be able to strengthen and assist me in carrying out my resolutions. . . .
". . . I said in my heart that there was not then upon earth the religion which I sought. I therefore determined to examine my Bible and, taking Jesus and His disciples for my guide, to endeavor to obtain from God that which man could neither give nor take away. . . .
"At length I considered it my duty to be baptized and, finding a minister who was willing to baptize me and leave me free in regard to joining any religious denomination, I stepped forward and yielded obedience to this ordinance."
While Lucy was preoccupied with religion and salvation, her husband was embarking on an ill-fated economic venture. Learning that ginseng root, which grew wild in Vermont, was highly valued in China, Joseph, who had experienced a series of financial setbacks, invested heavily in the herb.
Having obtained a substantial quantity, he was offered three thousand dollars for it by a Mr. Stevens from Royalton, but he declined. When Joseph went to New York to arrange for shipment, Mr. Stevens followed him to find out which ship Joseph's cargo was on. Having some ginseng himself, he sent his son to represent himself and Joseph in selling the product. Young Stevens sold the ginseng at a good profit, but misrepresented the returns and gave Joseph Smith, Sr., only a chest of tea. When Stevens' dishonesty was discovered, he fled to Canada with the money, leaving Joseph and Lucy with an eighteen-hundred-dollar debt. Lucy recalled, "This farm, which was worth about fifteen hundred dollars, my husband sold for eight hundred dollars in order to make a speedy payment." To this Lucy added the one thousand dollars she had received for a wedding present. They were out of debt, but penniless.
Joseph and Lucy moved briefly to Royalton, Vermont, and then to Sharon in Windsor County, where they rented Lucy's father's farm. Joseph farmed in the summer and taught school in the winter. While in Sharon,
Joseph and Lucy had another son, born 23 December 1805, whom they named Joseph. Naming him this fulfilled a prophecy of Joseph in Egypt who had predicted that a "choice seer" would be raised up among his descendants. One of the keys by which this seer could be identified was that he would receive the name of the ancient patriarch Joseph, which would also be his father's name (see 2 Nephi 3:14–15).
Joseph Smith, Sr., and Lucy were dutiful parents and endeavored to teach their children religious precepts. Lucy especially encouraged her children to study the Bible. Their son William, born in 1811, recalled his mother's concern with religious matters: "My mother who was a very pious woman and much interested in the welfare of her children, both here and hereafter, made use of every means which her parental love could suggest, to get us engaged in seeking for our souls' salvation."
Joseph, Sr., was as gentle as he was big. Heber C. Kimball recalled he was "one of the most cheerful men I ever saw, and he was harmless as a child." Lucy said he was "an affectionate companion and tender father as ever blessed the confidence of a family."
Though less inclined to teaching his family, Joseph, Sr., was religious. William remembered: "My father's religious habits [were] strictly pious and moral." Like his father, Asael, Joseph was suspicious of traditional churches but always retained a strong belief in God. Sometime in 1811, his "mind became much excited upon the subject of religion." While in this state of agitation and concern, he had the first of a series of dreams which came within an eight-year period. In the first dream Joseph found himself
traveling through a barren field of dead timber with a spirit who told him the field represented the world without religion. Joseph was told he would find a box of food which if eaten would make him wise. He tried to partake but was prevented from doing so by horned beasts. He told Lucy he awoke trembling but happy and that he was now convinced that even the religious knew nothing of the kingdom of God.
Later in 1811, Joseph, Sr., experienced a second profound dream that related to his family. It was much like Lehi's dream of the tree of life. He found himself following a path to a beautiful fruit tree. As he began to eat the delicious fruit, he realized that he must bring his wife and family to the tree so they could enjoy it together. He went and brought them, and they began to eat. He reported that "We were exceedingly happy, insomuch that our joy could not easily be expressed."
His last dream took place in 1819 in New York, shortly before his son's first vision. A messenger said, "I have . . . always found you strictly honest in all your dealings. . . . I have now come to tell you that this is the last time I shall ever call on you, and that there is but one thing which you lack in order to secure your salvation." He awoke before learning what he lacked.
Because heavenly communications were part of Joseph, Sr.'s life, it was easy for him to accept his son's prophetic calling. Eventually he learned that he lacked the saving principles and ordinances of the gospel of Jesus Christ, which the Lord restored through his son Joseph.
---
Joseph married Emma Hale on January 18, 1827, and was described as a loving and devoted husband. They had eleven children (two adopted), only five of whom lived past infancy. During the thirty-nine years of his life, Joseph established thriving cities in Ohio, Missouri, and Illinois; produced volumes of scripture; sent missionaries throughout the world; orchestrated the building of temples; served as mayor of Nauvoo, one of the largest cities in Illinois, and as general of its militia, the Nauvoo Legion; and was a candidate for the presidency of the United States. He was a controversial figure in American history—beloved of his followers and hated by his detractors. Joseph was persecuted much of his adult life and was killed along with his brother Hyrum by a mob in Carthage, Illinois, on June 27, 1844
Stories
Death of Joseph Smith's Brother Alvin
The Three Miracles Witnessed by David Whitmer
Joseph's Leg operations as told by his Mother
Death of Joseph Smith's Brother Alvin:
In November of 1823, tragedy struck the Smith home. Alvin, Joseph's oldest brother, became ill; Father Smith was unable to find their family physician. The doctor who finally came administered calomel (mercurous chloride), a laxative, which at the time was used as a remedy for many ailments. But the medicine lodged in Alvin's stomach, creating greater suffering. He died 19 November 1823 after four days of illness. Alvin was a faithful and serious young man, and Joseph idolized him. Joseph saw in him a guileless person who lived an upright life. Alvin loved Joseph, too, and was greatly interested in the sacred record. As death neared he counseled Joseph: "I want you to be a good boy, and do everything that lies in your power to obtain the Record. Be faithful in receiving instruction, and in keeping every commandment that is given you." Joseph learned by revelation years later that Alvin was an heir to the celestial kingdom (see D&C 137:1–6).
---
Martin's wife, Lucy, was suspicious of Joseph Smith. She had questioned him about the plates and demanded to see them. He had told her she could not, "for he was not permitted to exhibit them to any one except those whom the Lord should appoint to testify of them."
That same night Lucy had a dream: "A personage appeared to her who told her that as she had disputed the servant of the Lord, . . . she had done that which was not right in the sight of God. After which he said to her: 'Behold, here are the plates, look upon them and believe.'" Unfortunately, Lucy's concerns were not resolved by her dream. She was angry that her husband was spending so much time away from her and wondered if the Smiths were trying to defraud him. She insisted on going to Harmony again. This time she announced to Joseph that she was not going to leave until she saw the plates. She ransacked the entire house looking for them, but did not find them. From that day on she claimed that her husband had been duped by "a grand imposter." After two weeks, Martin took her home. Despite her attempts to dissuade him, he returned to Harmony. In Martin's absence, Lucy continued her criticism in Palmyra. In Pennsylvania, Joseph and Martin labored together on the translation until 14 June 1828. By that time the translation filled 116 foolscap pages (roughly legal-size), and Martin asked if he could take this manuscript home to show his wife and friends. He hoped this would convince Lucy that the work was legitimate and stop her opposition. Through the Urim and Thummim, Joseph inquired of the Lord. The answer was no. Martin, not satisfied, persisted until Joseph again asked the Lord; still the answer was no. Martin's pleadings and solicitations continued. Joseph wanted to satisfy his benefactor. He was young and inexperienced, and he relied upon the age and maturity of Martin. Moreover, Martin was the only one Joseph knew who was willing to work as scribe and finance the publication of the book.
These considerations moved him to ask again. Finally, the Lord granted a conditional permission. Martin agreed in writing to show the manuscript to only four or five people, including his wife; his brother, Preserved Harris; his father; his mother; and Lucy's sister, Mrs. Polly Cobb. Martin then left for Palmyra with the only copy of the manuscript.
Shortly after Martin's departure, Emma Smith bore a son, Alvin, who died the day he was born. Emma nearly died herself, and for two weeks Joseph was constantly at her bedside. When she improved, his attention returned to the manuscript. By this time Martin had been gone for three weeks, and they had heard nothing from him. Martin had not been totally irresponsible. He had spent time with his wife, taken care of business in Palmyra, and served on a jury.
Emma encouraged Joseph to catch a stage to Palmyra and check on the matter. After traveling from Harmony to the Palmyra area and walking the last twenty miles during the night, Joseph finally arrived at his parents' home in Manchester. He immediately sent for Martin. Martin usually came quickly, so breakfast was prepared for him and the Smiths. Several hours passed before Martin finally plodded up the walk with head hung down.
He climbed on the fence and sat there with his hat down over his eyes.
Finally he came in and sat down at the breakfast table, but he could not eat. Lucy Mack Smith, the Prophet's mother, recorded: "He took up his knifeand fork as if he were going to use them, but immediately dropped them. Hyrum, observing this, said 'Martin, why do you not eat; are you sick?' Upon which Mr. Harris pressed his hands upon his temples, and cried out in a tone of deep anguish, 'Oh, I have lost my soul! I have lost my soul!' "Joseph who had not expressed his fears till now, sprang from the table, exclaiming, 'Martin, have you lost that manuscript? Have you broken your oath, and brought down condemnation upon my head as well as your own?'
"'Yes; it is gone,' replied Martin, 'and I know not where.'" Self-condemnation and fear beset the Prophet. He exclaimed, "'All is lost! all is lost! What shall I do? I have sinned—it is I who tempted the wrath of God. I should have been satisfied with the first answer which I received from the Lord; for he told me that it was not safe to let the writing go out of my possession.' He wept and groaned, and walked the floor continually. "At length he told Martin to go back and search again. "'No'; said Martin, 'it is all in vain; for I have ripped open beds and pillows [looking for the manuscript]; and I know it is not there.' "'Then must I,' said Joseph, 'return with such a tale as this? I dare not do it. And how shall I appear before the Lord? Of what rebuke am I not worthy from the angel of the Most High?' . . .
"The next morning, he set out for home. We parted with heavy hearts, for it now appeared that all which we had so fondly anticipated, and which had been the source of so much secret gratification, had in a moment fled, and fled forever." Upon returning to Harmony without the 116 pages of manuscript, Joseph immediately began to pray for the Lord to forgive him for acting contrary to his will. Moroni appeared to Joseph and required him to return the plates and the Urim and Thummim, but promised that he could receive them back if he were humble and penitent. Some time later he received a revelation which chastised him for negligence and for "setting at naught the counsels of God" but also comforted him that he was still chosen to perform the work of translation if he repented (see D&C 3:4–10). Joseph did repent and again received the plates and the Urim and Thummim, along with a promise that the Lord would send a scribe to assist him in the translation. There was a special message: "The angel seemed pleased with me . . . , and he told me that the Lord loved me, for my faithfulness and humility."21
With his divine gift restored, Joseph learned by revelation that wicked men, intending to entrap him, had altered the words of the manuscript. If he translated the same material again and published it, they would say he was unable to do it the same way twice, and therefore the work must not be inspired (see D&C 10). God, however, had prepared for this circumstance. The lost document was the book of Lehi taken from Mormon's abridgment of the large plates of Nephi. But Mormon had been inspired to attach the small plates of Nephi to his record for "a wise purpose," which at the time he did not understand (see Words of Mormon 1:3–7). These smaller plates contained an account similar to that in the book of Lehi. Joseph was instructed not to retranslate, but to continue on and at the appropriate time to include the material from the small plates of Nephi. These records were the account of Nephi which the Lord said was "more particular concerning the things which, in my wisdom, I would bring to the knowledge of the people" (D&C 10:40).
---
The Three Miracles Witnessed by David Whitmer
Shortly after beginning to assist Joseph Smith with the work of translation, Oliver wrote to David Whitmer in Fayette township. He enthusiastically testified that Joseph Smith had the ancient records and that the work was divine. Soon he sent a few lines of the translation and bore witness that he knew the plates contained a record of the people who once inhabited this continent. David Whitmer, then twenty-four years of age, eagerly showed these letters to his parents and brothers and sisters.
Persecution began to intensify in the Harmony area, so late in May, Oliver communicated with David about the possibility of Joseph and Oliver going to stay with the Whitmers in Fayette. In response Peter Whitmer, Sr., David's father, invited Joseph to stay at his farm home as long as was needed to finish the work of translation. David's brother John offered to help as Joseph's scribe. Many people in the Fayette area were anxious to hear more about the work.
A late May planting was essential for successful fall crops; therefore, David Whitmer had to plow and prepare the soil before he could take his two-horse wagon to pick up Joseph Smith and Oliver Cowdery. At the end of a day of plowing he found he had accomplished in one day what normally would have taken two days to do. David's father was likewise impressed by this apparent miracle. Peter Whitmer, Sr., said, "There must be an overruling hand in this, and I think you would better go down to Pennsylvania as soon as your plaster of paris is sown."11 (Plaster of paris was used to reduce the acidity of the soil.) The next day David went to the fields to sow the plaster, but to his surprise he found the work had been done. His sister, who lived near the field, said that her children had called her to watch three strangers the day before spread the plaster with remarkable skill. She assumed they were men David had hired. Grateful for this divine intervention, David Whitmer hurried off on the three-day journey to Harmony. Joseph Smith and Oliver Cowdery met him as he approached the town. Although David had not told them exactly when he was coming, Joseph had seen in vision the details of David's trip to Harmony. These three miracles witnessed by David Whitmer exemplified the Prophet's seership and the Lord's intervention for the successful inauguration of the Restoration.
---
Joseph's Leg operations as told by his Mother
Joseph, having recovered from the typhus fever, after something like two weeks' sickness, one day screamed out while sitting in a chair, with a pain in his shoulder, and, in a very short time he appeared to be in such agony that we feared the consequence would prove to be something very serious. We immediately sent for a doctor. When he arrived and had examined the patient, he said that it was his opinion that this pain was occasioned by a sprain. But the child declared this could not be the case as he had received no injury in any way whatever, but that a severe pain had seized him all at once, of the cause of which he was entirely ignorant.
Notwithstanding the child's protestations, still the physician insisted that it must be a sprain, and consequently he anointed his shoulder with some bone linament, but this was of no advantage to him, for the pain continued the same after the anointing as before.
When two weeks of extreme suffering had elapsed, the attendant physician concluded to make closer examination, whereupon he found that a large fever sore had gathered between his breast and shoulder. He immediately lanced it, upon which it discharged fully a quart of matter.
As soon as the sore had discharged itself the pain left it, and shot like lightning (using his own terms) down his side into the marrow of the bone of his leg and soon became very severe. My poor boy, at this, was almost in despair, and he cried out "Oh, father! the pain is so severe, how can I bear it!"
His leg soon began to swell and he continued to suffer the greatest agony for the space of two weeks longer. During this period I carried him much of the time in my arms in order to mitigate his suffering as much as possible; in consequence of which I was taken very ill myself. The anxiety of mind that I experienced, together with physical over-exertion, was too much for my constitution and my nature sank under it.
Hyrum, who was rather remarkable for his tenderness and sympathy, now desired that he might take my place. As he was a good, trusty boy, we let him do so, and, in order to make the task as easy for him as possible, we laid Joseph upon a low bed and Hyrum sat beside him, almost day and night for some considerable length of time, holding the affected part of his leg in his hands and pressing it between them, so that his afflicted brother might be enabled to endure the pain which was so excruciating that he was scarcely able to bear it.
At the end of three weeks, we thought it advisable to send again for the surgeon. When he came he made an incision of eight inches, on the front side of the leg, between the knee and ankle. This relieved the pain in a great measure, and the patient was quite comfortable until the wound began to heal, when the pain became as violent as ever.
The surgeon was called again, and he this time enlarged the wound, cutting the leg even to the bone. It commenced healing the second time, and as soon as it began to heal it also began to swell again, which swelling continued to rise till we deemed it wisdom to call a council of surgeons; and when they met in consultation they decided that amputation was the only remedy.
Soon after coming to this conclusion, they rode up to the door and were invited into a room apart from the one in which Joseph lay. They being seated, I addressed them thus: "Gentlemen, what can you do to save my boy's leg?" They answered, "We can do nothing; we have cut it open to the bone and find it so affected that we consider his leg incurable and that amputation is absolutely necessary in order to save his life."
This was like a thunderbolt to me. I appealed to the principal surgeon, saying, "Dr. Stone, can you not make another trial? Can you not, by cutting around the bone, take out the diseased part, and perhaps that which is sound will heal over, and by this means you will save his leg? You will not, you must not, take off his leg, until you try once more. I will not consent to let you enter his room until you make me this promise."
After consulting a short time with each other, they agreed to do as I had requested, then went to see my suffering son. One of the doctors, on approaching his bed, said, "My poor boy, we have come again." "Yes," said Joseph, "I see you have; but you have not come to take off my leg, have you, sir?" "No," replied the surgeon, "it is your mother's request that we make one more effort, and that is what we have now come for."
The principal surgeon, after a moment's conversation, ordered cords to be brought to bind Joseph fast to a bed-stead; but to this Joseph objected. The doctor, however, insisted that he must be confined, upon which Joseph said very decidedly, "No, doctor, I will not be bound, for I can bear the operation much better if I have my liberty." "Then," said Dr. Stone, "will you drink some brandy?"
"No," said Joseph, "not one drop."
"Will you take some wine?" rejoined the doctor. "You must take something, or you can never endure the severe operation to which you must be subjected."
"No," exclaimed Joseph, "I will not touch one particle of liquor, neither will I be tied down; but I will tell you what I will do—I will have my father sit on the bed and hold me in his arms, and then I will do whatever is necessary in order to have the bone taken out." Looking at me, he said, "Mother, I want you to leave the room, for I know you cannot bear to see me suffer so; father can stand it, but you have carried me so much, and watched over me so long, you are almost worn out." Then looking up into my face, his eyes swimming in tears, he continued. "Now, mother, promise me that you will not stay, will you? The Lord will help me, and I shall get through with it."
To this request I consented, and getting a number of folded sheets, and laying them under his leg, I retired, going several hundred yards from the house in order to be out of hearing.
The surgeons commenced operating by boring into the bone of his leg, first on one side of the bone where it was affected, then on the other side, after which they broke it off with a pair of forceps or pincers. They thus took away large pieces of the bone. When they broke off the first piece, Joseph screamed out so loudly, that I could not forbear running to him. On my entering the room, he cried out, "Oh, mother, go back, go back; I do not want you to come in—I will try to tough it out, if you will go away."
When the third piece was taken away, I burst into the room again—and oh, my God! what a spectacle for a mother's eye! The wound torn open, the blood still gushing from it, and the bed literally covered with blood. Joseph was pale as a corpse, and large drops of sweat were rolling down his face, whilst upon every feature was depicted the utmost agony!
I was immediately forced from the room, and detained until the operation was completed; but when the act was accomplished, Joseph put upon a clean bed, the room cleared of every appearance of blood, and the instruments which were used in the operation removed, I was permitted again to enter.
Joseph immediately commenced getting better, and from this onward, continued to mend until he became strong and healthy. When he had so far recovered as to be able to travel, he went with his uncle, Jesse Smith, to Salem, for the benefit of his health, hoping the sea-breezes would be of service to him, and in this he was not disappointed.
Having passed through about a year of sickness and distress, health again returned to our family, and we most assuredly realized the blessing; and indeed, we felt to acknowledge the hand of God, more in preserving our lives through such a tremendous scene of affliction, than if we had, during this time, seen nothing but health and prosperity.
---
The violent deaths of the Prophet Joseph Smith at the age of thirty-eight and his brother Hyrum Smith (age forty-four), Associate President and patriarch of the Church, dramatically ended the founding period of the LDS Church. On June 27, 1844, they were mobbed and shot while confined at Carthage Jail in Hancock County, in western Illinois. Climaxing more than two decades of persecution across several states, this event gave them an enduring place as martyrs in the hearts of Latter-day Saints.
Nauvoo in 1844, a gathering place for the Saints on the Mississippi River, contained elements of both greatness and dissension. Almost overnight, it grew from a village of religious refugees and new converts to the point where it rivaled Chicago as the largest city in Illinois. With Democrats and Whigs both vying for the Mormon vote, Nauvoo was granted one of the most liberal city charters in the state, an independent military force, and a strong judicial system. However, as in Missouri during the 1830s, natural rivalry with older citizens in neighboring towns like Carthage (the county seat) and Warsaw (the next largest port city) turned to jealousy and hatred as Nauvoo's economic and political power grew.
These tensions coalesced around Joseph Smith. In addition to being prophet and President of the Church, he also served as mayor, commander of the Nauvoo Legion state militia, justice of the peace, and university chancellor. Non-Mormon fears of this concentration of powers were intensified by the Church's belief in the theocratic union of spiritual, economic, and political matters under the priesthood. This and other "unorthodox" doctrines, such as continuing revelation, temple ordinances for the living and the dead, new scripture, and plural marriage, further intensified political and economic rivalries.
Illinois anti-Mormons, perhaps assisted by old enemies from Missouri, joined with a handful of determined Mormon defectors within Nauvoo. Several had held high Church positions and, when excommunicated, fueled efforts to destroy Joseph Smith and the Church.
The Prophet's life and his plans to resettle many of the Saints in the West were cut short by a series of explosive confrontations with these conspirators. The igniting spark was the destruction of the defectors' intemperate newspaper, the Nauvoo Expositor, as a public nuisance by the Nauvoo city marshal, under orders from Joseph Smith and the city council. Removal of this press came after the first and only issue had vilified Joseph Smith, pledged to cause repeal of the protective Nauvoo charters, and invited mob action against the Saints. Joseph Smith's enemies countered the destroying of the press with criminal charges against him and his brother for inciting a riot. The brothers soon gained release from arrest on a habeas corpus before an LDS tribunal. Then, following the advice of a state circuit court judge, they appeared before a non-Mormon justice in Nauvoo and were exonerated of the charges against them.
However, threats of mob violence increased. In Warsaw and Carthage, newspapers called for extermination of the Mormons. On June 18, Joseph Smith mobilized his troops to protect Nauvoo. When Illinois governor Thomas Ford apparently sided with the opposition and ordered the Church leaders to stand trial again on the same charges, this time in Carthage, Joseph and Hyrum first considered appealing to U.S. President John Tyler, but then decided instead to cross the Mississippi and escape to the West. Pressured by family and friends who felt abandoned and who believed Joseph to be nearly invincible, he agreed to return and surrender; but he prophesied that he would be going "like a lamb to the slaughter" and would be "murdered in cold blood" (HC 6:555, 559). Joseph urged Hyrum to save himself and succeed him as prophet, but Hyrum refused and accompanied his brother to Carthage.
Despite his promises of protection and a fair trial, Governor Ford allowed the Smiths to be imprisoned by their enemies without bail and without a hearing on a wholly new charge of treason for having declared martial law in Nauvoo. Stating that he had to "satisfy the people," the Governor ignored clear warnings of danger and disbanded most of the troops. He then left the hostile Carthage Greys to guard the jail and took the most dependable troops with him to Nauvoo.
During the governor's absence, a mob of between one hundred and two hundred armed men-many of them from the disbanded Warsaw militia-gathered in late afternoon, blackened their faces with mud and gunpowder, and then stormed the jail. In less than two minutes, they overcame feigned resistance from the Greys, rushed upstairs, and fired through the closed door. Hyrum, shot first, died instantly. John Taylor, an apostle, tried to escape out a window and was shot five times, but survived to later become the Church's third President. Only Willard Richards, another apostle, survived unharmed. Trying to go out the window to deflect attention from the two survivors inside, Joseph Smith was hit in the chest and collarbone with two shots from the open doorway and two more from outside the window. His final words as he fell to the ground outside the jail were, "O Lord, my God!" (HC 6:618). As rumors spread that the Mormons were coming, the mob dispersed.
Several times during his last days Joseph Smith told the Saints that while he had enjoyed God's safekeeping until his mission was fulfilled, he had now completed all that God required of him and could claim no special protection. Early in his career, the Prophet had recorded that the Lord told him, "Even if they do unto you . . . as they have done unto me, blessed are ye, for you shall dwell with me in glory" (D&C 6:30). Church leaders then and now have taught that the shedding of these martyrs' innocent blood was necessary to seal their testimony of the latter-day work that they "might be honored and the wicked might be condemned" (D&C 136:39).